Color Harmony in Painting Using Color Theory Easy Ways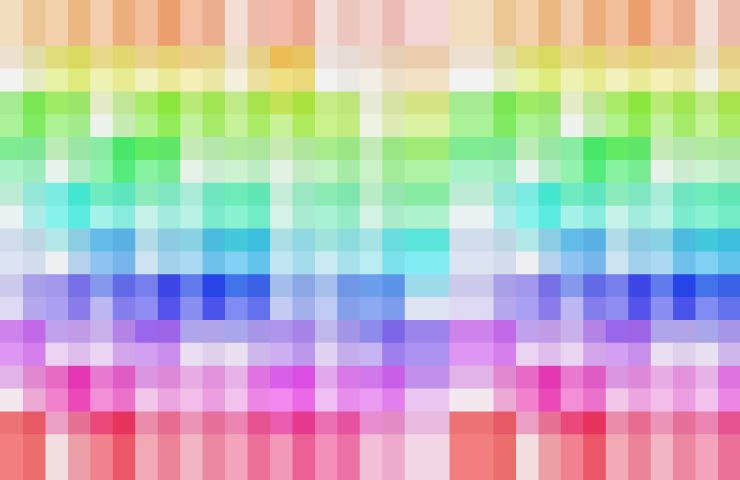 Color harmony is one of the crucial things in art and design. Choosing a variety of colors combining with each other so that they appear to be harmonious is not easy.
There are several preliminary guidelines for combinations taken from color theory and art principles to simplify the process of Color Harmony.
Before starting the mix and match, it's good if we explore a little about general knowledge of the color itself by knowing the various elements of color to increase the space for our creativity when arranging colors.
Color Formation Process for Color Harmony
Based on Newton's theory in his book "Optics" (1704), color is an element of light reflected by an object. Then interpreted by the eye based on the light that hits the object, the object also affects the color produced through the pigment.
Besides that color is also a human psychological experience. The human senses are able to perceive the colors found in that light. Physical color is the nature of light emitted, while psychologically as part of the experience of the sense of sight. Details about color formation events can be found here:
Read: Color Theory: The Process of Occurrence According to Experts
Optical Color / Color Dimension
Hue
Hue is pure color, without tint (explained, added white paint) or shade (darkened, black paint added).
Digital technology provides many options for modifying hues. Modification of hue can give a different and unique impression on various colored objects in the work or design that we are working on.
Hue Red
Burgundy
Pink
Magenta
Navy
Crimson
Hue blue
Indigo
Teal
Turquoise
Jade
Sapphire
Hue Green
Lime
Mint
Emerald
Wine
Olive
Saturation / Saturation
Saturation is the color density. Colors that have high saturation will look very striking. Conversely, if the saturation is low, the color will appear faded. Saturation is also called chroma or color intensity.
In pigment (paint) saturation is also determined by the quality of the paint material. If the quality of the paint is not good, the color pigment material is usually less and contains more filler (an adhesive mixture of paint), resulting in fading colors.
While in good quality paint, pigment material is more than filler, so the color looks more striking. Besides that the saturation is also determined by the mixture of tint and shade. Adding black or white paint will reduce the original color saturation. Saturation also depends on the amount of paint solvent content
Dark Light / Value
Dark light or the value here is how much tint or shading is found in the color. More tints produce brighter colors. While the shade that is more dominant will produce a darker color.
Types of color
Colors are divided into two according to the origin of the color event, namely additive and subtractive colors. Additive colors or colors of objects are colors that come from light and are called spectra.
For example colors produced by electronic devices such as computer screens. While the subtractive color or color of the pigment is a color that comes from a material and is called a pigment, like paint. Both types of colors have different color space / models as described below:
1. Additive Color / Object Color (Additive)
RGB. Red, Green, Blue



2. Subtractive Color / Pigment Color (Subtractive)
CMYK. Cyan, Magenta, Yellow plus Black (Key, black is not the color but is needed in the color of the material / paint).



Color Grouping / Color Notation
Brewster put forward a theory about color grouping. Brewster's theory divides colors in nature into four groups of color notation, namely primary, secondary, tertiary, and neutral colors.
Color grouping is based on the occurrence of the primary color until the colors are mixed and eventually form many other colors.
Color groups refer to the color circle of Brewster's theory presented as follows: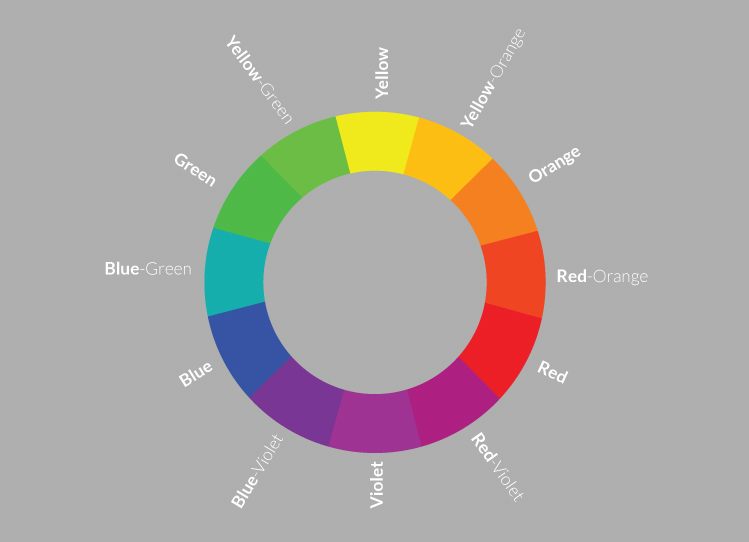 Primary color
Primary color is the basic color that is not formed from a mixture of other colors. According to the pigment color theory of Brewster, the primary color is the basic colors (Ali Nugraha, 2008: 37).
Meanwhile other colors are formed from a combination of primary colors. The primary colors are: red, yellow and blue. Technically the primary color names are magenta, yellow and cyan.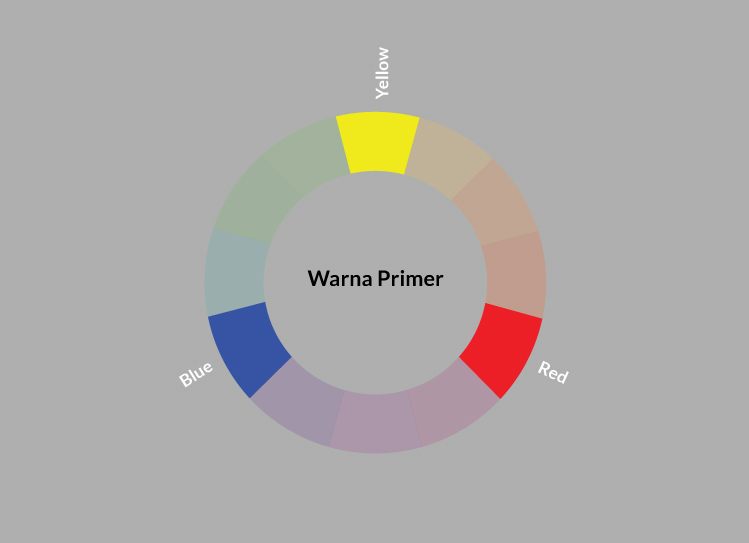 Secondary Color
Secondary color is a mixture of two primary colors with a proportion of 1: 1. Blon's theory proves that the mixture of primary colors produces secondary colors. Orange or orange is a mixture of red and yellow. Purple is a mixture of red and blue. Green is a mixture of blue and yellow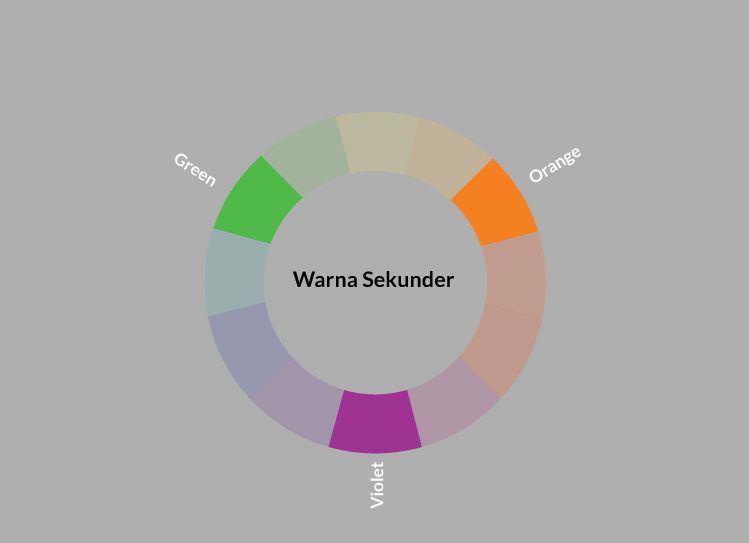 Tertiary color
Tertiary color is a mixture of one of the primary colors with one secondary color. For example, yellowish orange (orange-yellow) is obtained from a mixture of yellow primary colors and orange secondary colors. The term tertiary color also initially refers to neutral colors made by mixing three primary colors in a color space. But there are other terms that are more appropriate for the neutral color mixture.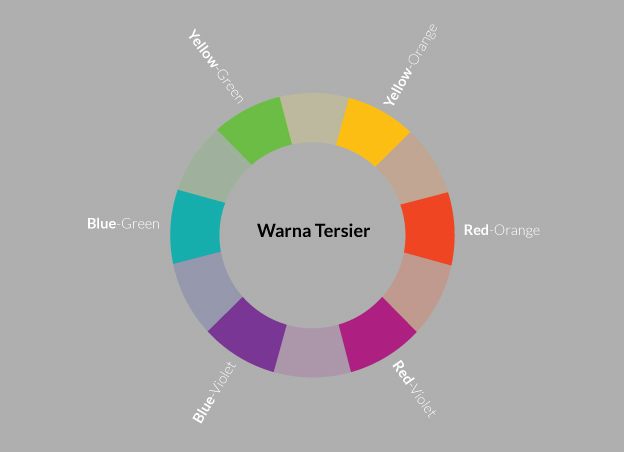 Neutral Color
Neutral color is the result of mixing all three basic colors in a balanced proportion of 1: 1: 1. The mixture produces neutral ash in an additive light color system. Whereas in subtractive colors on pigments or paint usually produces a brownish-gray color, or almost black with a little primary color accent with more saturated saturation. Neutral colors are often used as a counterweight to contrasting colors in the work.
Color Mixing
Albert Henry Munsell put forward a theory that supports Brewster's theory. Munsell argues that: The three main colors are the basis and are called primary colors, namely red (M), yellow (K), and blue (B).
If the colors of the two primary colors are each mixed, it will produce a second color or a secondary color. If the primary color is mixed with secondary colors, a third color or tertiary color will be produced.
If between tertiary colors are mixed again with primary and secondary colors will produce a neutral color. The formulation of Munsell's theory in color mixing can be described as follows:
Primary color
• red
• Yellow
• Blue
Secondary Color
• Red Yellow = Orange
• Red Blue = Purple
• Yellow Blue = Green
Tertiary color
• Red Orange = Reddish orange
• Yellow Orange = Yellowish orange
• Red Purple = Reddish purple
• Purple Blue = Bluish purple
• Green Yellow = Yellowish green
• Green Blue = Bluish Green
Warm and Cool Colors
Color notation is divided into two color properties. Namely warm colors and cool colors. Warm colors tend to be more contrasted and their position looks more front compared to cool colors. Psychologically warm colors are more appropriate for showing personal, family and commercial products. Cool colors have a calmer appearance and visually behind. Cool colors give the impression of calm, professional, suitable for corporate color themes.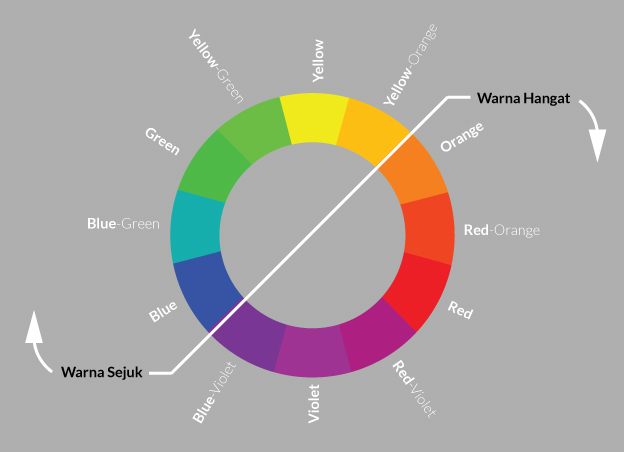 Blend of Harmonious Colors
The combination of harmonious / color hamony colors can be achieved by doing the right color combination. A harmonious color combination is to combine two colors or more because they adhere to the principles of fine art. The color remains harmonious by using the principle of unity, contrast, etc. through the color location data obtained in the color wheel. Usually the colors are combined side by side or face to face in a circle of color / color wheel.
Analogous / Analogus Color Combination
Analogous is a combination of two adjacent colors in a color / color wheel circle. Choose one main color then take 1-2 colors that are attached to the color. Analogous color combination into the color harmony because the colors chosen are still similar or transition from the main color; principle of unity.
Example of Analogous Color Combinations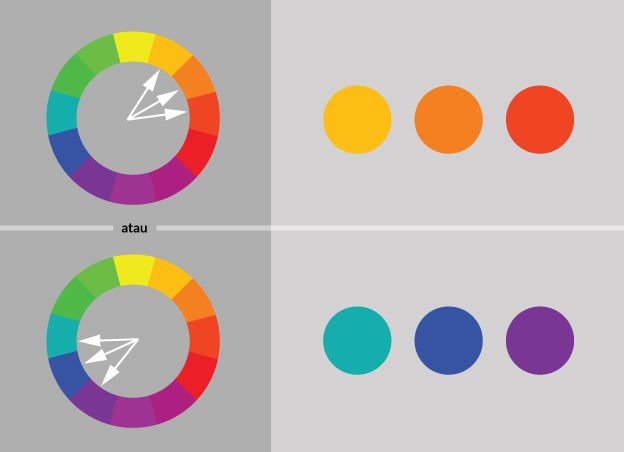 Monochromatic / Monochromatic color combination
Monochromatic is a combination of various colors created with different shades and tints. For example dark red, red and pink. No need to explain anymore why this color combination is harmonious.

Examples of Monochromatic Colors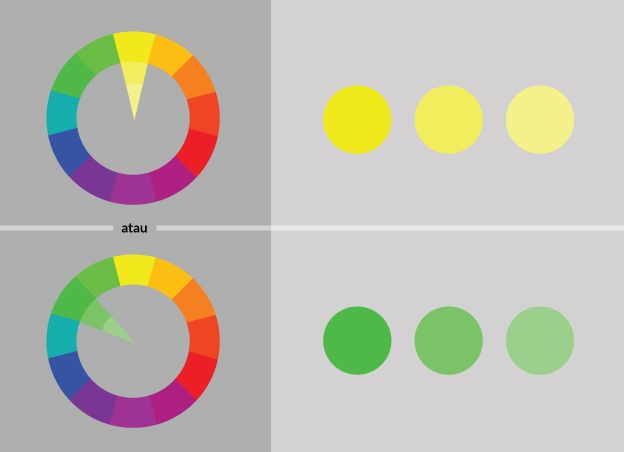 Complementary / complementary color combination
Complementary / complementary color combination is a combination of colors between opposite / opposite colors in a color / color wheel circle. The combination of complementary colors will look beautiful because they are far different, complementary. Complementary color scheme is also harmonious because it is based on the principles of art and design: contrast.

Example of Complementary Color Alloy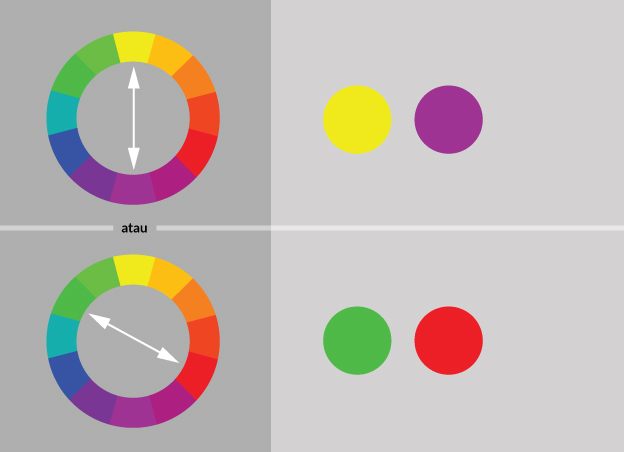 A combination of Complementary Split Colors
Like complementary color combinations, split complementary is two colors that are opposite, but not really crossed (an angle approaching 180 degrees) in a color circle. Usually the split will use 2 other colors of the main color to slightly reduce the contrast that occurs.

Example of a Complementary Split Color Combination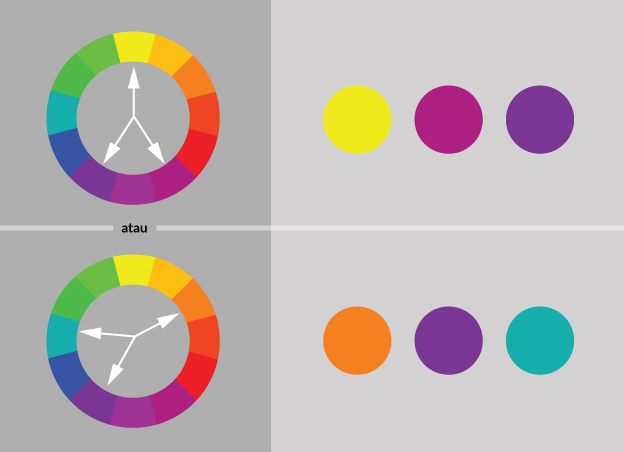 Combination of Complementary / Complementary Triadic Triad Colors
Complementary Triadic is a three-color crossing that forms an angle of 60 degrees in a color circle. Select this color combination on the color wheel resembling an equilateral triangle.
Example of a Complementary Triadic Color Combination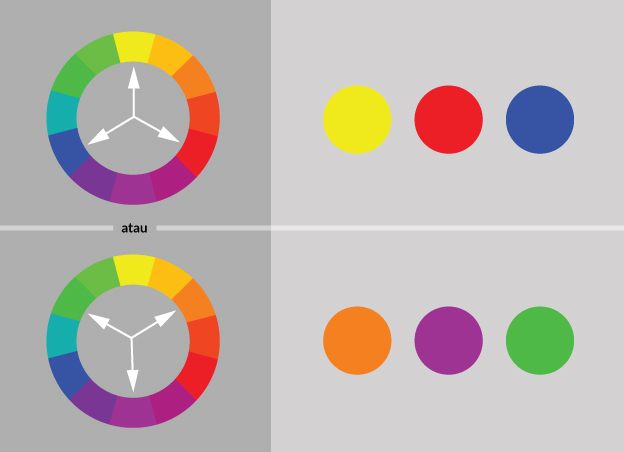 Complementary / Complementary Tetrad Color Blend
Tetrad is four colors that cross and form a 90 degree angle in the color / color wheel circle. Complementary Tetra is also often called double complementary.
Examples of Complementary Tetrad Color Blends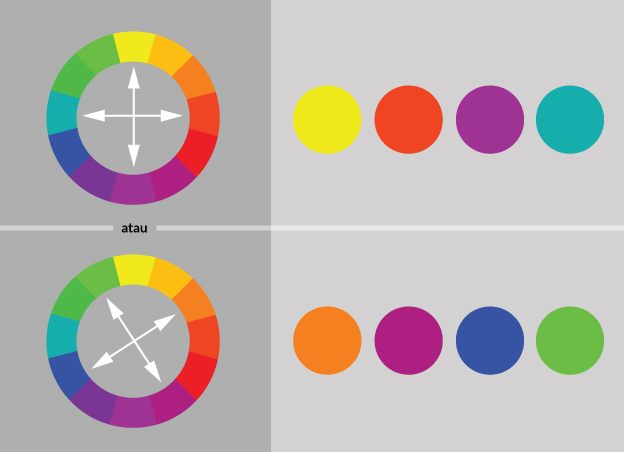 Color Psychology

Color can provide psychological effects and give the impression of certain emotions in humans. Some colors also have symbols that have been built in certain cultures. So that the influence of color on human emotions is very relative. Here are some notes that can be used as initial references in choosing colors.

• red
Strength, energy, warmth, love, lust, aggression, danger. Red can change meaning if combined with other colors. Red when combined with White, will be the color of national symbols in Indonesia and Poland. If Red is combined with Green, it will be a symbol of Christmas.

• Blue
Trust, Conservative, Security, Technology, Clean, Order, Freedom. Blue is widely used as a color on the Bank's logo in the United States to give the impression of trust.
• Green
Natural, Healthy, Luck, Renewal. In China and France, packaging with Green color is not very well liked. But in the Middle East, Green is very popular with the community
• Yellow
Optimistic, Hope, Philosophy, Sporty, Dishonesty, Cowardice (for Western culture), betrayal. Yellow is a sacred color in Hinduism.

• Purple
Spiritual, Mystery, Nobility, Rudeness, Transformation, Pride. Purple is a color that is very rare in nature
• Orange
Energy, Dynamic, Balance, Kehangantan. Usually used by commercial products to emphasize the impression of an inexpensive product
• Chocolate
Land, Earth, Reliability, Comfort, Sturdy. Food packaging in the United States often uses the color Brown and is very popular, but in Colombia, the color Chocolate for packaging is less successful
• Gray
Intellect, Simplicity, Neutral, Future, Sadness. Color Gray is the color that is most easily digested by the eye
• white
Chastity, Cleanliness, Accuracy, Non-innocence, Setril, Death. In America, White symbolizes marriage (white wedding dresses), but in Eastern culture White symbolizes death
• Black
Elegant, strong, elegance, sophistication, death, mystery, fear, sadness. An important note about black is symbolizing death and sadness in Western culture. But as a packaging color, Black gives a premium impression
Conclusion
Even though the various harmonious blend of colors available gives many choices, use colors wisely. Choose the dominant main color and match it with the relevant harmonious colors. Pay a close attention on how each color affects human psychology.
For example if the main color is red, don't use too much. Red is a strong color and must be balanced by softer colors. Keep using the principles of art and design in arranging the combinations that have been set. For example red is used in fewer proportions than green, to apply the principle of balance.
We can use various applications or web based applications such as Adobe Color to make a harmonious blend of colors. Some digital image processing applications have also provided various Color guides, including to arrange harmonious colors based on this theory.
Like in Adobe Illustrator, we just need to choose the main color that is cool, the other color students will be generated automatically.