Color Theory: The Process of Color Occurrence According to Experts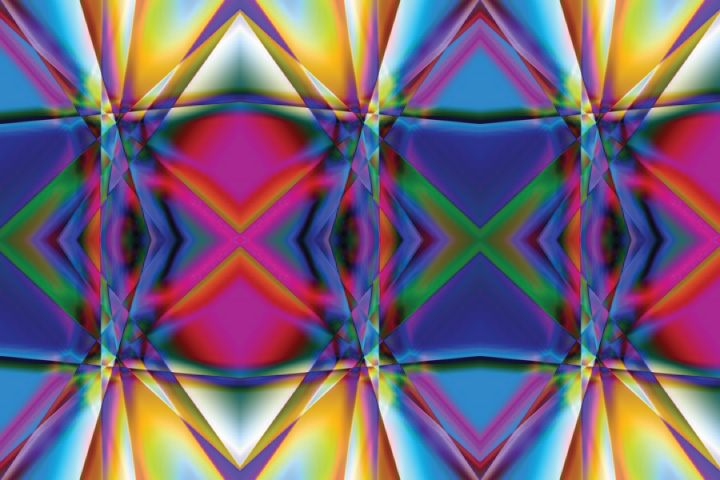 Color theory is one of the general knowledge very useful to understand in any field. Because color is one element of things that is very well appreciated by the public. One of the natural emphasis and point of interest of all elements of an object that will be felt immediately. That way the benefits and functions of learning it themselves are no longer questionable. Learning it will open up a variety of new spaces in the process of creation.
Because of the strong element of color, in the eyes of the field of art study and color design is considered to be attractive. So color theory is usually introduced later. Painting study programs will usually introduce colors after students learn various other elements, especially dark-light / value. Because learning colors first will usually reduce students' exposure to dark-light elements.
Color theory here reveals the process of color occurrence. Revealing the process of color will give us a new perspective in appreciating color. The color theory commonly used in design studies and fine arts (color harmony, color dimensions, etc.) can be seen here:



Understanding Color
Understanding color is the impression that the eye receives from light reflected by objects subject to the light. Light-reflected objects absorb some or all of the bouncing color. So that when only the red color is reflected and the other color is absorbed, the object becomes red. In the eyes of art and design, the understanding of color according to Prawira is "Color is one of the elements of beauty in art and design besides other visual elements" (Sulasmi Darma Prawira, 1989: 4).

Furthermore, Sadjiman Ebdi Sanyoto (2005: 9) defines color physically and psychologically. Physical color is the nature of light emitted, while psychologically as part of the experience of the sense of sight. There are three important elements of understanding color. These elements are objects, eyes and light elements.
In general, the notion of color can be defined as an element of light reflected by an object. Then interpreted by the eye based on the light that hits the object. In addition to the surface of objects that are reflected by light can also be affected by color pigments, both naturally and human (paint).
Color Viewpoint
According to Sanyoto "Color is divided into two according to the origin of color events, namely additive and subtractive colors" (Sadjiman Ebdi Sanyoto, 2005: 17–19). Additive colors are colors that come from light and are called spectra. While subtractive colors are colors that come from materials and are called pigments. This color event is reinforced by Newton's findings (Sulasmi Darma Prawira, 1989: 26) which reveals that color is a natural phenomenon in the form of light containing a spectrum or rainbow and pigment color. According to Prawira (1989: 31), pigments are dyes that dissolve in solvent.
Color Theory (Causes of Color Occurrence)
Color is something that looks ordinary at this time. We can see colors anywhere in everyday life. Unlike the present, in the past colors were very rare. Especially blue, when the only organic material that can make these pigments is very rare shells. At that time no one understood how color was formed.
Systematics of color grouping have also not been found. Still only based on what is seen and felt only. Only in Newtonian times, the mystery of color was solved. Sir Isaac Newton was a pioneer who had succeeded in uncovering the process of forming colors scientifically. Before heading to the process of forming Newton's color, it is better to explore the process of other thinkers who have tried and failed to uncover the mystery.
Pre Newton Color Theory
The definition of color at this time is actually irrelevant. But it can be a learning how past thinkers try to uncover the mystery of color. Aristotle argues that light and darkness when combined will produce color. Even great thinkers like Aristotle were fooled by darkness. Again explaining that studying dark-light before color is very important.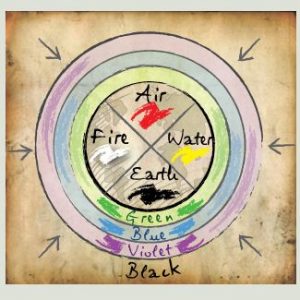 Francois d'Aguilon's (1613) sparked the theory of color mixing. In theory white and black are primary colors, red, yellow and blue are colors with a high position. It can also be observed here that his opinion about black and white is that the color is still bound by dark-light habits and colors. Black and white are not colors, but variants of dark and light (value).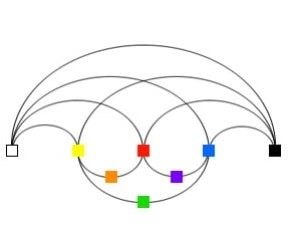 Newton's Color Theory (1642-1727)
The discussion of the existence of color scientifically begins with the findings of Sir Isaac Newton described in his book "Optics" (1704). He revealed that the color was in light. Light is the source of color for every object. This assumption is based on his findings in an experiment.
In a dark room, a beam of white sunlight is shone through a small hole and hits a prism. It turns out that the white light of the sun that looks colorless to our eyes is actually colored, when it is broken by a prism into a colored light arrangement that appears as red, orange, yellow, green, blue, indigo, and purple light.
The arrangement is then known as the spectrum arrangement in light. If the spectrum of light is collected and passed back through a prism, the light returns to white light. Thus, white light is actually a combination of colored light in the spectrum.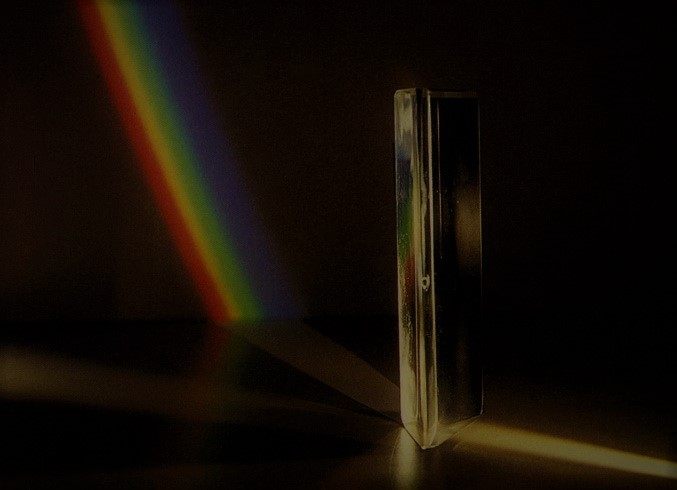 Based on that experiment, Newton concluded that objects were completely colorless without any light touching them. An object appears yellow because of photoreceptors (catchers / recipients of light) in the human eye that capture green light reflected by the object. Apples look red not because they are red, but because they only reflect red light and absorb other colors of light in the spectrum.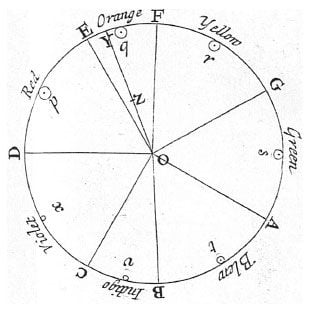 The light reflected by apples is only red light, other light is absorbed. Then the color that appears on the observer is red. A white object because it reflects all of the spectrum of light that befalls it and none of it is absorbed.
An object appears to be black if the object absorbs all the color elements of light in the spectrum and not one of them is reflected or the object gets less light. Light is the only source of color. Colored objects are all just reflectors, absorbent and successors of colors in light. Therefore, when we give color to an object the term is more precisely we manipulate the reflected power and absorbability of the object through pigment.
Young's Color Theory (1801) and Helmholtz (1850)
Thomas Young is a British scientist who first gave reasonable support to Newton's statement about the theory of color. Sir Isaac Newton's assumption of vision, light and the existence of the colors of objects was tested again.
Young justifies some of Newton's assumptions, but Young rejects Newton's statement which states that the eye has many receptors to accept various color variants. In 1801 Thomas Young proposed the hypothesis that the human eye has only three light receptors, namely receptors that are sensitive to blue, red and green light. All color vision is based on these three receptors. Unfortunately, Young hardly did any experiments to prove his statement.
A German optician Hermann von Helmholtz explained and revived the truth of Young's hypothesis. The results of the joint venture were then known as "Young-Helmholtz Theory" or "The Three-Color Vision Theory". The theory is also commonly called the "Theory of Three Receptors". Through all three receptors, we can see all the color variants and differentiate them.
If light hits an object, it reflects one or more of the light in the spectrum. When the reflected light reaches the eye, the receptors in the eye will be aroused. It could be only one of them, two, or all three at a time. If blue light reaches the eye, then receptors that are sensitive to blue will be aroused, so the color that appears is blue. If the green receptors are aroused, then the green is visible, and when the red receptors are aroused then the colors that appear are red.
Color Experiment James Clerck Maxwell (1855-1861)
Young and Helmholtz's findings have proven that there is a relationship between the color of light that comes to the eye and the color received by the brain. That was the initial support for Newton's assumptions about light and the colors of objects. Newton's theory states that objects that appear to be colored are actually recipients, absorbers, and successors of the color of light that is in the spectrum.
James Clerck Maxwell formed a series of experiments using colored light projectors and filters. Three projectors that have been given different color filters are highlighted on a white screen in a dark room. The stacking of two or three colored lights turns out to produce another color. For example the buildup of green and red light produces a yellow color.
The results of Maxwell's experiments concluded that the colors red, green and blue are primary colors (primary color) in mixing colors of light. Primary colors are colors that cannot be produced by mixing any color. While going through these primary colors, all other colors can be created. The results of the experiments of three projectors demonstrated by Maxwell can be shown with the following picture: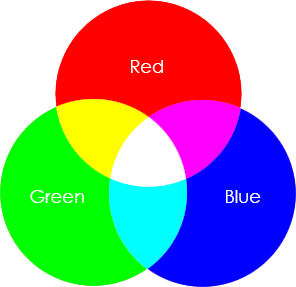 Light Color (Additives)
Maxwell's experiments are very good models to facilitate our understanding of how eye receptors capture light, thus providing colored vision in the brain. But mixing colors into light and coloring agents (pigments / paints) shows different symptoms.
Even so, we can still predict the existence of relationships that are related to each other. The yellow color in light turns out to be produced by adding the color of green light to red light. How to produce new colors of light by mixing two or more colors of light is called additive color mixing (addition). Additive color mixing can only be used in mixing the color of light, the result is different from the color of the material / pigment.
Material Color (Subtraction)
While mixing the ingredients / pigments color does not experience the same symptoms. Because in essence, when we paint objects with paint, what actually happens is that we are adjusting the reflecting power and the color absorption of the object.
The color is still produced by light reflecting on the object that is given paint. The red color is produced by mixing the primary colors of magenta (red hue) and yellow (green hue). Mixing two or more colors of paint is actually reducing the intensity and type of light reflected by the paint. Mixing color through paint materials like this is then called color mixing in a subtraction manner (reduction).